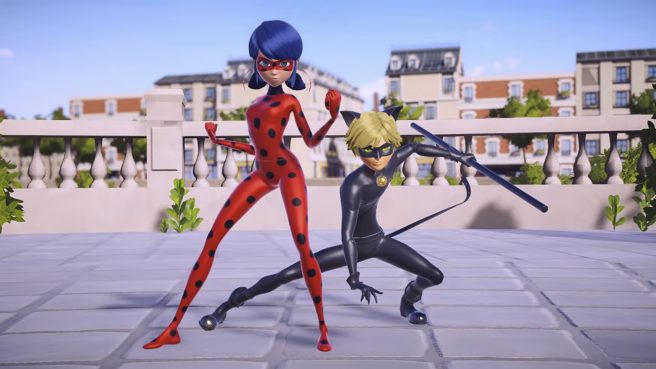 Miraculous: Rise of the Sphinx hasn't been released yet, but GameMill has already released a launch trailer. The title will appear on Switch next week.
For more information on the game, read the following preview:
Paris needs a hero! Once again, the City of Lights is in trouble as it faces a new threat: the most menacing monster-feeling ever created is about to take over! As the world-renowned superheroes Ladybug and Cat Noir, you must uncover the evil plan hatched by the archvillain Hawk Moth and crush him! Immerse yourself in the magical world of Miraculous and upgrade your super powers as you embark on your biggest journey yet!

Main characteristics

• Epic adventure! Immerse yourself in an original story as you take control of everyone's favorite heroes, Ladybug and Cat Noir.
• Team up! Experience the thrill of teamwork as you battle villains and demonize akumas together in local co-op.
• More villains! Come face to face with familiar villains, Hawk Moth, Gamer, Weredad and Mr. Pigeon, as well as new enemies!
• Discovery! Explore the streets of Paris as Marinette and Adrien and discover the story behind their alter ego Ladybug and Cat Noir.
• Cool gadgets! Use Ladybug's fast yo-yo and Cat Noir's magic all-purpose stick to swing or jump into battle! Upgrade gadgets to unlock powerful new moves!
• Master Fu! Visit your friend and mentor Master Fu whose words of wisdom help you learn new powers.
• Kwami Shop: Discover the many treasures of the Kwami Shop by unlocking artwork, music and more.
• Friendship Quest: As Marinette and Adrian, you'll have to catch up with your friends to find clues to advance the story and unlock special friendship moments.
Take a look at the Miraculous: Rise of the Sphinx launch trailer below.
Miraculous: Rise of the Sphinx is coming to Switch on October 25, 2022.
Related